Vietnam Gameverse 2023 is the first game festival in Vietnam, organized by VnExpress and supported by the Ministry of Culture, Sports, and Tourism. The festival aims to promote the development and diversity of the game industry in Vietnam, as well as to connect game lovers, developers, publishers, investors, and educators. Some of the big names in the industry are participating as exhibitors or sponsors, such as VTC, GOSU, Gamota, OTA Network, Yomost, Garena, Funtap, Momo, Acer, and more. The festival included various activities such as exhibitions, workshops, cosplay contests, game awards, and more.
Game Talks – a Gathering of Industry Experts
One of the highlights of the festival is Game Talks, a series of discussions on hot issues and topics of the game industry, featuring experts and representatives from different sectors. Game Talks covers topics such as blockchain games, game localization, game marketing, game development cooperation, game education, and more. So, what do the "Talks" elaborate about? Are there any highlights? Let's find our right now with Gamota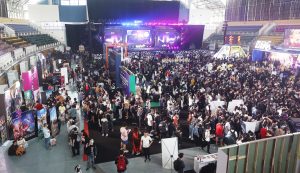 (Source: VnExpress)
Highlight 1: The Plausible Billion-Dollar Dream for Vietnam Game Industry
The Vietnam Game Festival – GameVerse 2023, held in early April, set an audacious target for the local game industry – to achieve a staggering $1 billion in revenue within the next five years, a substantial leap from the current $600 million. This ambitious vision may seem like a daunting challenge, but it also opens a gateway of opportunities for industry players to thrive and expand.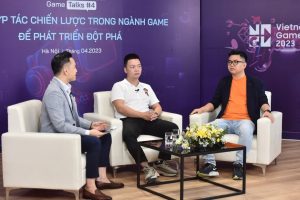 (Source: VnExpress)
During Game Talks 4, industry experts, Mr. Tran Hoang Giang and Mr. Quang Tuan shed light on the exciting prospects that lie ahead. They emphasized that achieving the $1 billion milestone is only the first step towards taking Vietnamese games to even greater heights. With the integration of Web3 and groundbreaking games like Axie Infinity, reaching this target becomes a plausible reality. Indeed, it is both a challenge and a driving force for the industry to grow and embrace innovation.
Read more on Game Trends and Forecast in Vietnam for 2023
Aura Network's revolutionary technology, The Xstaxy, takes center stage as a platform that fosters strategic cooperation between domestic and international businesses. This dynamic platform empowers game developers to build and introduce a variety of open-genre games to users, effectively utilizing each other's user base. With such technological advancements and strategic collaboration, the game industry is poised to achieve unprecedented growth.
Highlight 2: New Direction for GameFi Wave in Vietnam
The world witnessed an explosive surge in the NFT and GameFi trends in 2021 and the first half of 2022, revolutionizing gameplay and in-game economies. Blockchain technology, the backbone of GameFi, created an unparalleled experience for players. However, the subsequent cooling down of developer enthusiasm and declining investment capital flow raised questions about the sustainability of the trend.
(Source: VnExpress)
As we venture into 2023, we wonder whether GameFi will continue as the industry's next revolution or suffer the fate of a "bubble burst." The Vietnamese game industry, once working behind the scenes, has now emerged as a bright spot in the GameFi trend. The Flappy Bird event from nine years ago proved Vietnam's creativity and potential, and today it stands as a driving force in the global GameFi landscape.
Despite challenges faced by the global GameFi market in 2022, the Vietnamese game industry remains resilient. Industry expert, Mr. An, advises developers to focus on optimizing operating costs and surviving market downturns. This stage of adversity separates the good from the bad, where only passionate and valuable projects prevail.
Axie Infinity serves as an exemplary success story, overcoming the "crypto winter" in 2018 to become a GameFi unicorn in 2021. The lessons learned from this journey highlight the importance of strong product development roadmaps, human resources, and market preparation.
Highlight 3: AI as the New Trend in the Game Industry
Amidst the resounding success and challenges of GameFi, the industry is already looking towards the future, where artificial intelligence (AI) emerges as the new frontier. AI's potential is boundless, promising to revolutionize gameplay and scenarios. Imagine interacting with characters that possess genuine intelligence, making the game world fluid and immersive, akin to real life.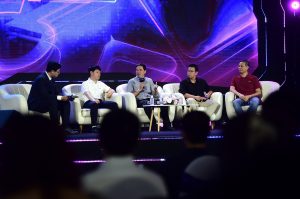 (Source: VnExpress)
Vietnam's openness to embracing new technologies is a key advantage. As the global gaming community seeks AI integration, Vietnam stands poised to maintain its leading position. AI-powered games will enable limitless scenarios, enhancing player experiences and pushing game developers to redefine their creative approaches.
Conclusion
In conclusion, the Vietnamese game industry has set its sights on a remarkable billion-dollar dream, driven by the spirit of innovation and collaboration. The GameFi wave has placed Vietnam firmly on the gaming stage, a testament to the country's adaptability to new technologies. As AI emerges as the industry's new trend, game developers are gearing up to unlock the limitless potential of this exciting frontier. With passion, strategic cooperation, and cutting-edge technology, the billion-dollar dream is well within reach, propelling Vietnam to the forefront of the global gaming landscape.
CONTACT US NOW to get more info and advice, or Subscribe down below if you're interested in our weekly newsletter