As we step into 2023, the hyper-casual gaming market is experiencing significant shifts within the gaming industry. Hyper-casual games, known for their easy pick-up-and-play nature, have long dominated the mobile platform, captivating gamers of all backgrounds and skill levels. 
However, the landscape has evolved, presenting both challenges and opportunities for developers in this oversaturated market. In this article, we will delve deep into the analysis of the hyper-casual gaming sector, combining insights from various sources, and explore the current trends and prospects for game developers in 2023.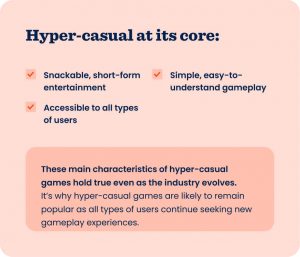 Source: Supersonic
The Current State of Hyper-Casual Gaming
The hyper-casual gaming market is undergoing a transformation as we enter 2023. While these games were once the fastest-growing niche, the rate of growth has slowed down considerably. Compared to casual and core projects, hyper-casual games are now experiencing lower download numbers, indicating a market that has become overcrowded and competitive. New games are finding it increasingly challenging to stand out from the competition and make a mark.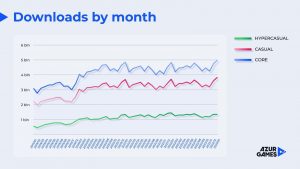 Comparing Q1 2023 to Q4 2022, there has been a 5% decrease in total hyper-casual game downloads. The market declined from 4 billion installs to 3.8 billion installs in the first quarter of 2023. Moreover, when comparing Q1 2022 to Q1 2023, there is a significant 10% drop in the number of downloads. Last year, the first quarter recorded 4.2 billion downloads, indicating a slowdown in the market's growth.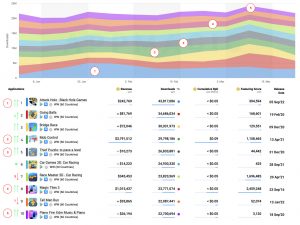 AppMagic's Statistics
There has also been a regional split occurrence. While most regions experienced a decline, the Tier-1 East region saw a surprising 15% increase in hyper-casual game downloads. On the other hand, the Tier-1 West region observed a minor 2% decrease. The market in other countries faced a 6% decline, raising concerns for developers targeting those regions.
The Transforming Hyper-Casual Market
Despite the slowdown, the hyper-casual genre is not dead; instead, it is evolving into a hybrid-casual environment. Data from Azur Games' lead publisher, Sergey Martynkevich, reveals that hyper-casual games still hold a significant position among the top 300 most downloaded and popular mobile games. Though not witnessing significant surges in downloads, the hyper-casual genre has seen a remarkable tenfold increase in the number of game releases in 2022 compared to previous years.
Taking a closer look at the top 10 downloaded games in Q1 2023, we find several familiar titles maintaining their positions. Games like "Going Balls," "Bridge Race," "Car Games 3D: Car Racing," "Tall Man Run," and "Race Master 3D – Car Racing" have consistently remained popular choices among players.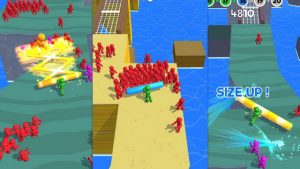 How about the top 300? The top 300 mobile games based on downloads were released in different years. In the current top 300, 2022 contributed 18%, while 2021 provided 42%. Noteworthy releases in 2022, such as Tall Man Run by Supersonic, Fill the Fridge by Rollic Games, and Save the Doge by Wonder Group, demonstrate that outstanding games can gain popularity despite declining trends
Do Sub-Genres Fluctuate? 
Installs and monetization for idle arcade games have increased over the past two years, indicating growth despite competition. While hyper-casual shooters show promise, scaling and maintaining a good flow of content and game design present challenges. Satisfaction and .io games are experiencing slight declines, while strategy games have tripled in volume and maintained stable installs.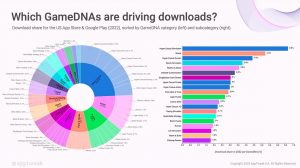 Clicker and idle games show remarkable growth, and puzzles continue to lead, while .io games have experienced a decline but still maintain decent metrics. Runners have remained relatively stable. However, careful analysis is essential, considering that the top-grossing game in the .io genre is Battle of Balls.
Monetization Practices for Hyper-Casual Games
The decline in eCPM in 2022 indicates changes in user behavior, with users playing less on their mobile devices post-COVID-19. However, understanding monetization practices is still crucial for developers seeking financial success with their hyper-casual games.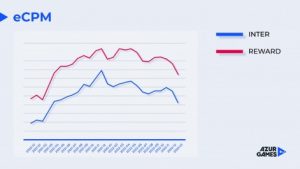 As large advertisers reduce their ad spend, developers must focus on improving games' LTV to maintain profitability. The top 10 games predominantly use the Meta Audience Network for in-app ad monetization. Additionally, many new games have adopted a hybrid model, incorporating both in-app ads and in-app purchase offers (IAPs).
Rewarded Videos and Fortune Wheel
Most games leverage Rewarded Videos, allowing users to progress, earn in-game currency, receive tips, and customize characters. Some games incorporate the Fortune Wheel mechanic, introducing an element of chance and excitement for users.
Interstitial Videos and In-App Purchase Offers
Another common practice involves showing Interstitial Videos after users complete several levels. As for IAPs, they often focus on skipping Rewarded Videos, No-Ads Offers, and Offer Packs that remove ads and provide additional rewards.
One game stands out with its subscription-based approach, offering users a 3-day trial to unlock all features and remove ads. This innovative strategy enhances the game's revenue potential.
Competition in the Gaming Industry
According to Newzoo, Games that are both casual and hypercasual are already up against tough competition from video platforms like YouTube Shorts and TikTok. The mobile app economy's advertising opportunities, especially for the hypercasual genre, have historically been advantageous, but as targeted user acquisition becomes more challenging and expensive, this is changing.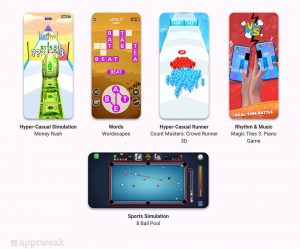 The gaming industry is experiencing intense competition, particularly within the hyper-casual segment. Major publishers are increasingly focusing on mobile platforms, and even non-gaming companies are entering the arena by acquiring mobile game development studios. To add to the competition, big players like Apple Arcade and Netflix Games have joined the competition, further intensifying the pressure on developers. This competitive landscape is often driven by the strength of intellectual properties (IPs) forming the basis of the rivalry.
Trends from 2022 and What to Expect in 2023
In 2022, TikTok emerged as a significant ideation platform for game concepts and creative strategies. Hyper-casual games inspired by viral videos on TikTok, like "Color Match," have seen remarkable success. This trend is expected to continue, making TikTok a vital channel for user acquisition and marketability testing.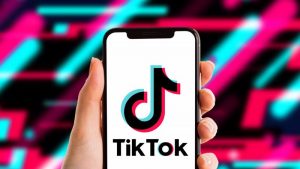 Hyper-Casualization of Casual Games
2022 saw the hyper-casualization of casual games, leading to the rise of simplified, snackable variations of casual mechanics. Idle arcade games, in particular, gained immense popularity, offering strong in-game metrics and higher LTV.
Depth in Hyper-Casual Games
Hyper-casual games have evolved to incorporate deeper meta and secondary game economies, taking inspiration from traditional casual games. This trend reflects the shift in the larger mobile ecosystem, as players seek more engaging and complex gaming experiences.
Challenges and Opportunities for Game Developers
The hyper-casual market presents a mixed bag of challenges and opportunities for game developers. To thrive in this overcrowded market, developers need to come up with innovative game designs and employ effective marketing strategies to stand out. Understanding user behavior and preferences becomes crucial for creating successful games that resonate with the audience. Furthermore, the deprecation of IDFA on iOS poses challenges in accessing and understanding the audience, requiring developers to explore alternative avenues for targeting players.
Conclusion
The hyper-casual gaming market, although no longer experiencing the exponential growth of the past, remains far from dead—it is evolving. Developers must adapt to changing trends and user preferences to stay relevant. Being well-informed about market insights and understanding the competitive landscape will be pivotal for success. In the midst of the gaming industry's continued growth, mobile platforms will play a pivotal role in driving new opportunities for developers.
CONTACT US NOW to get more info and advice, or Subscribe down below if you're interested in our weekly newsletter