ChinaJoy, the renowned International Digital Entertainment Expo, celebrated its 20th anniversary in 2023, marking a momentous occasion in the world of gaming, ACGN culture, and interactive entertainment. This four-day extravaganza took place from July 28th to July 31st at the New International Expo Center in Shanghai, attracting attention from game developers, enthusiasts, and leading industry experts worldwide. Let's dive into the key takeaways that made ChinaJoy 2023 an unforgettable experience. 
So, here are the key takeaways from the 20th Chinajoy Expo
1. AI in Conferences
ChinaJoy 2023 placed a significant focus on artificial intelligence (AI) during conferences. It introduced the ChinaJoy AIGC Conference. This is a platform that gathered industry experts, scholars, and business leaders from the field of AI in gaming. The conference explored hot topics related to AI in gaming, discussed the evolution of fundamental AI technologies, and examined how technological upgrades influence content creation. Additionally, the China Game Developers Conference (CGDC) added a dedicated AI session. Specifically, technical experts discussed AI's role in enhancing game development efficiency, fostering innovation, and improving the overall gaming experience.
(Lilith Games Party)
2. Global Participation
ChinaJoy 2023 saw active participation from more than 100 international companies. Renowned enterprises such as Qualcomm, Sony, Bandai Namco, AMD, and Samsung, among others, registered for the expo. Moreover, the event provided a platform for these companies to showcase their latest digital entertainment products, technologies, and applications in overseas markets. Also, the participation of overseas speakers in various concurrent conferences during ChinaJoy 2023 accounted for 25% of the total, with keynote speeches from well-known international experts.
3. New Products Showcase
The expo featured hundreds of exhibitors, both domestic and international, unveiling their latest products and masterpieces. Notable companies like NetEase Games, Perfect World Games, and Shengqu Games presented their classic games and new releases. Cutting-edge technologies, including Virtual Reality (VR), Augmented Reality (AR), and Metaverse experiences, were demonstrated by various exhibitors. The showcase allowed attendees to experience the latest advancements in the digital entertainment industry.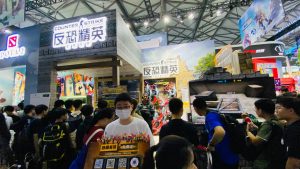 4. Industry Leaders Gather
Apart from the main conference brands, ChinaJoy 2023 hosted dozens of concurrent conferences catering to diverse industry hotspots. The China Digital Entertainment Congress (CDEC) focused on the frontier of industry development and introduced new conferences like ChinaJoy AIGC Conference, Overseas Growth Summit, and ChinaJoy Web3 Conference. The China Game Developers Conference (CGDC) set up thematic sessions covering various game genres and technical aspects. These conferences attracted nearly 300 well-known leaders and experts from the digital entertainment industry, who delivered keynote speeches, seminars, and exchanges.
5. Qualcomm Snapdragon Hall
Qualcomm, a leader in wireless technology innovation, collaborated with industry partners to create the ChinaJoy 2023 "Qualcomm Snapdragon Hall." The hall showcased a series of new products, including mobile terminals, automobiles, smart wearables, and other cutting-edge mobile technologies. The venue also hosted the 2023 Grand Final of the Snapdragon Pro Series (SPS) Elite Invitational Tournament, featuring top professional teams and gaming anchors, igniting the enthusiasm of gamers and e-sports enthusiasts.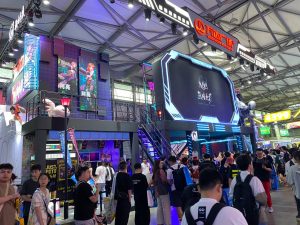 6. Thematic Exhibition Areas
To keep pace with industry trends, ChinaJoy 2023 introduced thematic exhibition areas, providing a targeted and categorized display for exhibitors. The Business-to-Consumer (BTOC) area included e-sports, VR/AR, science fiction, trendy lifestyle, intelligent mobility, Designer toys, GK & Figure Mode (CJFM) areas. The Business-to-Business (BTOB) showcase featured digital technology innovation, IP licensing, and creative games areas. These thematic zones attracted a wide range of visitors, enhancing the overall experience of the expo.
7. Concurrent B-end Events
ChinaJoy 2023 witnessed a multitude of activities for professional audiences, including important product launches, signing ceremonies, press conferences, and business exchanges. Various domestic and international exhibitors, such as MIGU, Lenovo, Samsung, Snap, and ThinkingData, held new product launches and technology-sharing sessions. These B-end events highlighted the expo's professionalism, foresight, and industry influence.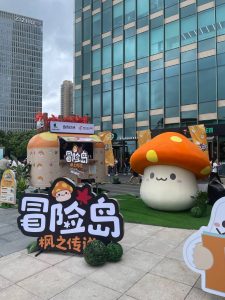 8. C-end Activities
The expo featured exciting concurrent activities for consumers, including the ChinaJoy Cosplay Super League, ChinaJoy Awesome Dancer Contest, and Huafu Model Contest, among others. Strategic cooperation between ChinaJoy and Wanda Plaza created immersive experiences throughout the year. Moreover, popular game developers like Tencent Games, Netease Games, and Giant Network hosted activities for players, offering a diverse and content-rich experience for attendees.
9. Online and Offline Linkage Innovation
To celebrate ChinaJoy's 20th anniversary, the organizer introduced pioneering innovations to make it the world's first exhibition brand with "online and offline linkage." The newly launched WeChat applet CJ ARena facilitated interactive experiences for gamers, both on-site and off-site. CJ ARena incorporated various gameplay elements, including player-versus-player battles, treasure hunting in the AR hall, resource collection, and booth battles. This innovation enhanced brand promotion, marketing value, and interaction with millions of Gen Z users.
Read More on May Gen Z & Gen Alpha be the future of gaming?
10. Support for Indie Game Teams
ChinaJoy 2023 established the Creative Game Area to support the growth of medium-, small-sized, and micro-game creation teams or individuals. The area provided a platform for outstanding creative game projects from overseas and local developers. Participating teams gained access to resources such as capital injection, distribution support, technical assistance, and other services to help them enter the market. Additionally, an online event called "ChinaJoy x Game Connection INDIE GAME Festival" was organized to further promote indie game products.
Conclusion
ChinaJoy 2023 was a massive success with its focus on technological innovation, novel products, and business discussions. The event brought together nearly 300 business leaders and industry experts, showcased hundreds of new products and masterpieces and highlighted the future of gaming through AI and e-sports. With its international reach and in-depth cooperation with global exhibitors and industrial associations, ChinaJoy 2023 proved to be a platform for promoting international industrial exchanges and cooperation in the field of digital entertainment. 
CONTACT US NOW to get more info and advice, or Subscribe down below if you're interested in our weekly newsletter