Because of favorable factors, mobile games are becoming more dominant in the game industry, generating lots of revenue. The industry is so much potential that many developers jump in to create mobile games.  However, many face a dead-end challenge: flopped games, simply because they don't conduct effective user acquisition strategies on their games. Thus, we are here to solve that problem by providing you guys with this in-depth article.
Why It's Important to Attract New Players
User acquisition is a strategy of getting new players for a game (whether it's for console, PC, or mobile). This means trying different methods to get more people to install and play the game on their devices. All game companies need an efficient UA team as they want more people to involve in their games and it can also scale their business reputation and growth. "User acquisition" is a broad term as it consists of games marketing or any tactics that can drive more players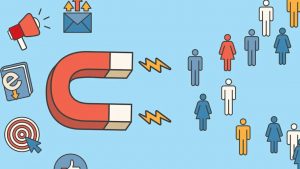 Mobile Game Market Trends
Successful mobile games are divided into many categories, including first movers, cultural influence, and games driven by "user acquisition". Making a good game is difficult and making it revolutionary or culturally significant is even harder. However, when user acquisition comes in, the game will have a better chance to grow exponentially. Simply because the strategies are easy to "Copy and Paste". Moreover, game developers can get more people to download their games, as well as increase their player base if they work closely with the UA team and media buyers
The Connection between Game Development and User Acquisition
As mentioned above, mobile game developers need to collaborate efficiently with the user acquisition team for their games to attract lots of players. However, some companies keep the UA team as an external function which limits communication and collaboration. This can create a disconnection of compromised ideas. By involving the media buyers, and affiliates in the whole process, game developers can enhance the quality of users acquisition efforts and enable stakeholders to make the right decision
The Top Effective User Acquisition Strategies 
Okay, now head on to some tools. In the mobile gaming industry, many platforms can significantly contribute to the success of any UA campaign. These strategies offer analytics, insights, and optimization capabilities for game developers and marketers to collaborate better. Based on data-driven solutions, game developers can figure out possible ways to meet the demand of the target audience and make informed decisions to acquire high-quality users.
Paid Marketing for User Acquisition
This is a proven method which had generated millions of dollars for game creators each year. It involves encouraging users' installations by running targeted ads on social media and the mobile ads network (Google, Unity Ads, Facebook or Vungle,…). Game developers and the UA team can leverage Ad intelligence tools such as  AdSpy, AppTweak Ad Intelligence, or SpyFuto,… identify profitable ad campaigns and get inspiration for their ads. It's also crucial to A/B testing your ads or if your budget allowed, we recommend implementing the DCO platform for customizing and targeting each audience segment with different needs.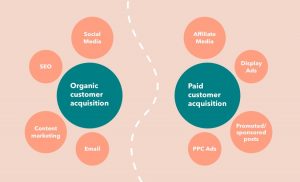 (Source: Affise)
Remember, don't use fake ads (clickbait ads) as they can adversely damage your reputation or brand image People might not want to play the game anymore because it would make the game look bad.
CHECK OUT THIS BLOG: What Makes a Good Video Ad for Your Game?
Organic User Acquisition
If you are on a tight budget, organic user acquisition is more reasonable as it works well in the long term and costs a minimum. Organic user acquisition focuses on strategies that drive natural, non-paid installations of the game. Simply put, you don't have to spend a single dollar on ads in this strategy (maybe some amount for employee salary, KPI bonus, and Influencers incentives) 
Some strategies include: 
ASO (App Store Optimization): Optimizing your app listing with relevant keywords and descriptions can help your game rank higher in app store search results, driving increased organic traffic to your game.
Social Media Marketing: Use social media platforms such as Twitter, Facebook, Instagram, and Reddit to promote your game by posting blogs, delivering creative content, and engaging with potential players.
Influencer Marketing: Working with influencers or popular streamers to promote your game can be an effective way to reach new audiences. You can provide them with early access to the game, sponsored content, or affiliate programs.
Beta testing and soft launches: Testing your game with a small group of users before launching it to a wider audience can help you identify and fix issues early on and build buzz before the official launch.
Referral programs: Encouraging existing users to refer their friends to your game by offering rewards or bonuses can help you to acquire new users at a low cost.
By combining paid marketing with organic user acquisition, developers can create a balanced strategy that boosts their game's presence and draws in a diverse player base.
Maximizing User Retention
It's essential to acquire new players, but it's also important to make sure they don't drop your game after playing it one or two times. The first thing you have to make sure is your game doesn't suck by following the current gaming trends and devoting to one of them.
People who create mobile game apps always need to improve them for current and new users. They need to improve the app by adding new features, updates, fresh content, and fixing issues over time (debugging). Additionally, implementing a monetization strategy and building up a strong and active community is also recommendable. Developers need to prolong their mobile game lifespan as much as possible by delivering high-quality and engaging gaming experiences.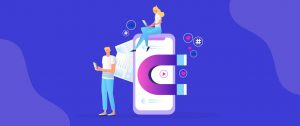 Feel overwhelmed? Let Gamota do all the work for you
It's sure a lot of work, right? How can you manage all of that if all your strength and logical thinking have been invested in developing games? Don't worry!  With our help, your only goal is to create an amazing game and leave the rest to us. Our job is to publish and acquire a new player base for your game in one of the most profitable markets in Asia – Vietnam. With our integrated services and tech-based ecosystem, we will scale up your mobile games in terms of revenue, visibility, installation rate, and game lifespan. 
So, what are you waiting for, CONTACT US NOW to get more info and advice