Esports, or electronic sports, has emerged because of competitive video games and online multiplayer platforms. Esports gains rapid popularity in young and gaming Vietnam and hold significant traction. As an esports tournament organizer ourselves, Gamota is also enthusiastic about the future of esports in Vietnam. 
The Prosperous Gaming Industry in Vietnam
The popularity of gaming in Vietnam is on rising with a substantial increase in playtime and high expectations for future growth. The majority of Vietnamese gamers are young, with an average age of under 35 years. Because of this supportive demographic, there is significant potential for the expansion of esports in the nation. Additionally, with a large and enthusiastic player base, Vietnam holds great potential for the development of esports.
The Promising Future of Esports in Vietnam
Experts from Appota Corporation – the publisher of the Vietnam eSports Guidebook 2021, predicted a bright future for esports in Vietnam. They rank Vietnam second (just behind Singapore) in terms of market dynamics in the Southeast Asia region, which signifies the country's potential for the development of esports in digital entertainment. Despite being a developing industry that faced challenges due to the Covid-19 pandemic, esports in Vietnam has shown promising figures in terms of active players, viewership, and prize pools. The number of domestic players has risen to nearly 18 million, indicating a growing interest in competitive gaming.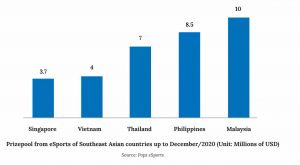 According to Statista,  a 2021 poll indicates that over 40% of Vietnamese players engaged in eSports gaming daily, with roughly 12% of them fitting into the category of "power gamers". They are gamers who spent more than 21 hours each week playing games. During the pandemic, viewership of eSports increased significantly on platforms like Facebook Gaming.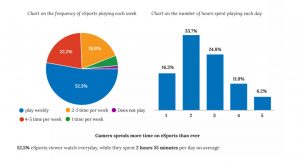 Overcoming Potential Difficulties
The Social Stigma's Effects on Esports 
While esports is gradually gaining recognition from national and regional organizations, it still faces social stigmas in Vietnam. Many parents perceive video games and esports as a "waste of time" and fail to acknowledge the potential career opportunities and financial success of professional gamers. However, esports players in developed countries have become idols, achieving fame and fortune. Changing social norms and educating parents about the potential benefits of esports can contribute to its growth in Vietnam.
Are Regulations Supportive or Not?
From a regulatory standpoint, the Institute for Policy Research and Media Development emphasizes the importance of a supportive policy and regulatory environment to transform digital sports, including esports, into a key industry in Vietnam's digital economy. To facilitate the growth of esports, management agencies need to address key issues such as copyright protection, tournament organization, talent development, and infrastructure improvement. It is also noteworthy that Vietnam Esports Development Joint Stock Company (Vietnam Esports) had been founded to focus on the development and promotion of esports and gaming. The company has since become a major player in the esports industry in Vietnam. 
The Opportunity for Vietnam Esports Industry 
Esports has already established itself as a massive industry globally, contributing billions of dollars in revenue. However, in Vietnam, esports is still in the early stages of development. The global esports market offers valuable insights and opportunities for Vietnam to tap into and accelerate its growth in the industry.
Knowledge from the world
One key aspect that Vietnam can learn from the global esports industry is the monetization models that have been successful in other countries. Revenue streams in esports include sponsorships, advertising, media rights, merchandise sales, and ticket sales for live events. By studying successful esports ecosystems and adapting those strategies to the Vietnamese market, the industry can generate sustainable revenue and attract more investment.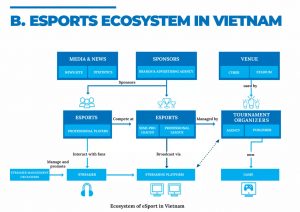 Infrastructure development
Furthermore, the development of infrastructure is crucial for the growth of esports in Vietnam. High-speed internet access and reliable connectivity are essential for competitive online gaming and streaming platforms. By the end of 2020, all 3 big network providers, including Viettel, Vinaphone, and Mobiphone had officially launched 5G trials. 5G will play a crucial role in boosting connection speed and latency which lead to better players' experience. Investment in esports arenas and dedicated gaming facilities can provide a professional environment for players and attract more live events. Additionally, creating training centers and educational programs to nurture talent and develop skills in esports can further boost the industry's growth.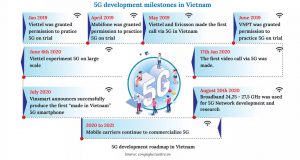 Growing National Esports Tournaments
Collaboration and partnerships with esports organizations, game publishing companies, and esports teams can also accelerate the growth of esports in Vietnam. By hosting professional tournaments, Vietnam can showcase its potential as a destination for esports events and gain recognition on the global stage. This exposure can attract more sponsorship opportunities and increase the country's visibility within the esports community. Some notable tournaments  in 2022 are included:
Arena of Valor International Championship: This tournament has attracted significant attention from Vietnamese viewers. In July 2022, the tournament had a peak viewership of almost 467.5K viewers, making it the most popular event among Vietnamese viewers 
VCS Summer: VCS Summer is the League of Legends (LoL) league's summer split in Vietnam. It is quite popular in the region, and the match between SBTC Esports and GAM Esports in July 2022 attracted a peak viewership of 144.4K people 
IEM Cologne: IEM Cologne is a Counter-Strike: Global Offensive (CS: GO) tournament. The Grand Final between Natus Vincere and FaZe Clan in July 2022 was watched by more than 127.3K Vietnamese-speaking peak viewers
An esports team in Vietnam typically consists of five players in each team, similar to other countries where esports are popular. These teams compete in tournaments and leagues, such as the Vietnamese Championship Series (VCS) for League of Legends. Teams may also have coaches and support staff to help with training and strategy development. Teams such as Gam eSport and Flash are popular as they engage in multiple game titles. They have achieved significant success in League of Legends, winning multiple VCS splits and representing Vietnam at international tournaments.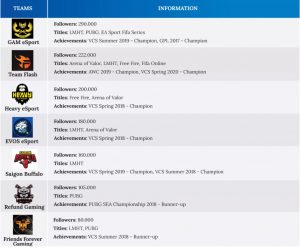 A bigger tap into global esports competition
Vietnam has officially put esports as an official sport for the upcoming 2023 Southeast Asian (SEA) Games which will be hosted in Cambodia between May 5th and 17th. This decision may result from the increasing recognition of competitive gaming in the area. Several esports titles are featured including Mobile Legends: Bang Bang, League of Legends, and Arena of Valor. The addition of esports to the SEA Games 2023 will provide an opportunity for Vietnamese players to showcase their talents on a global scale and compete against talented players from neighboring countries. It is anticipated that this action will provide a kick to the growth and progress of esports in Vietnam and other areas within Southeast Asia.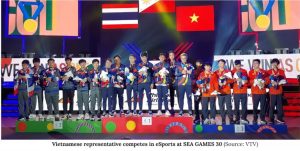 Wanting to organize successful esports arenas, team up with Gamota
With a young and tech-savvy gaming population and favorable market dynamics, Vietnam is likely to become a major player in the esports industry. And, to leverage all those essences, you need to collaborate with the best. Maybe VNG and Garena are good options, but you are not gonna find a partner who digs deep and offers more than what you invest. Don't believe it? Gamota is the organizer of many esports tournaments such as World Cyber Game 2018 with 2150k views, PUBG Mobile Tour 2018 with 3500k views, and The Beginning-a professional Vainglory tournament which gain incredible metrics. With a 35 million gamer base and comprehensive services, we are a perfect choice for establishing successful esports tournaments.  
Are you ready to make your tournaments into a viral showdown with millions of views,  CONTACT US NOW to get more info and advice