The gaming industry has come a long way in recent years, making strides toward a more inclusive and diverse environment. Women have been actively involved in overcoming the challenges and bias that have traditionally existed in this male-dominated field. In this blog, we'll delve into the various ways in which women are making their mark in the game industry and driving positive change.
1. Increasing Visibility and Representation
One key strategy employed by women in the game industry is increasing their visibility. This involves participating in industry conferences, speaking on panels, and sharing their experiences. By doing so, women are not only showcasing their presence but also inspiring others to join the industry.
2. Networking and Support Groups
Networking and support groups play a vital role in empowering women in the game industry. Organizations like Women in Games provide opportunities for women to connect with peers and mentors. These networks offer guidance, emotional support, and career advice, helping women navigate their path in the industry.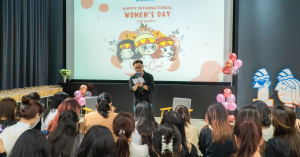 International Women Day (March 8th) at Appota Corporation
3. Education and Training
Education is the foundation of any successful career, and women are actively pursuing this avenue. Specialized courses and scholarships encourage more women to explore game development and related STEM fields. By improving access to quality education, the industry is becoming more diverse.
4. Advocacy and Awareness
Raising awareness about the challenges women face in the game industry is another critical aspect of their journey. Women in the industry, as well as supportive allies, have been vocal in advocating for gender equality. They have been speaking out against sexism and discrimination in the workplace, bringing these issues to the forefront.
5. Diversity and Inclusion Initiatives
Game development companies are increasingly adopting diversity and inclusion initiatives. These initiatives are designed to create more inclusive environments that allow women and underrepresented groups to thrive. They're not just about meeting diversity quotas but about fostering a culture of inclusion.
6. Role Models
Success stories are powerful motivators. Women who have made significant contributions to the industry are serving as role models for the next generation of game developers. Their journeys and achievements inspire young women to pursue careers in gaming without hesitation.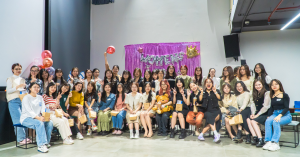 International Women Day (March 8th) at Appota Corporation
7. Game Content
The games themselves are evolving to be more inclusive. Developers are creating characters and storylines that reflect a wider range of experiences, including those of women and minorities. This not only appeals to a broader audience but also dismantles stereotypes.
8. Mentorship Programs
Mentorship is invaluable in any industry, and gaming is no exception. Many women in the industry have benefited from mentorship programs that provide guidance and advice from experienced professionals. These programs help newcomers navigate their careers, overcome challenges, and reach their full potential.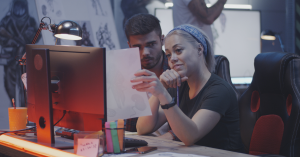 9. Unbiased Recruitment
Companies are reevaluating their recruitment practices to ensure they are free from bias. They are striving to hire the best candidates based on their skills and qualifications rather than gender. This approach promotes fairness and equal opportunities.
10. Legal Protections
In some countries, legal protections exist to prevent discrimination based on gender in the workplace. These protections serve as a safety net for women facing bias, ensuring their rights are upheld.
While significant progress has been made, challenges and bias are not entirely eradicated from the game industry. Women continue to face issues like gender pay gaps, harassment, and a lack of representation in leadership roles. However, the industry's progress so far demonstrates a growing commitment to diversity and inclusion. As more women and allies work together, the industry is poised to continue evolving into a more equitable and inclusive space for everyone.
Overcoming Challenges and Biases
Although the ratio of women game developers is not as high as men, there is a notable increase in the percentage They are working hard to create a more inclusive and diverse industry that reflects positive perspectives of diversity, equality, and inclusion.These trailblazers are taking up important roles as programmers, designers, writers, and even in top-level management positions.  But of course, they have to face some challenges along the way.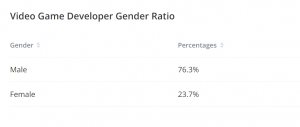 The challenges that women developers in the gaming industry have faced are not to be taken lightly. In the past, they have had to deal with gender biases and discrimination, which has hindered their progress and growth. Additionally, the workplace environment for women developers has often been toxic, with cases of sexual misbehavior and harassment being all too common. It's truly disheartening to see the mistreatment that these talented women have had to endure. 

One of the biggest instances that shed light on the mistreatment of women in the gaming industry was Gamergate in 2014. It all started when game developer Zoe Quinn spoke out about the unfair treatment that women in the industry faced. Sadly, this led to a wave of harassment and threats targeting not only Quinn but also other vocal women in the industry. It was a horrifying display of hate speech, doxing, and even death threats. But this incident opened up a much-needed conversation about the dire need for change in the gaming industry. 
Thankfully, since Gamergate, the gaming industry has started taking steps towards inclusivity and diversity. Slowly but surely, the image of the gaming industry is changing for the better. Moving forward, platforms and organizations are actively working to create safer and more inclusive streaming environments. They are providing support networks and empowering women to pursue their passion for gaming and content creation. 
At Gamota, We stand beside you
The challenges and bias that women face in the gaming industry are significant. But these challenges have not deterred these women from thriving and inspiring others through their creativity and dedication. With the industry now actively working towards change, we can hope for a future where women in gaming are given equal opportunities, equal respect, and the recognition they truly deserve.By acknowledging and celebrating the contributions of women in the game industry, we not only recognize their achievements but also highlight the potential for positive change. Through these efforts, we can look forward to a future where the game industry truly reflects the diversity and talent of its passionate community.
CONTACT US NOW to get more info and advice, or Subscribe down below if you're interested in our weekly newsletter