Hey there, gaming enthusiasts! The world of gaming is always evolving, and Vietnam is no exception. With almost 100 million people, Vietnam has become an increasingly important market for worldwide game developers. And one game that has made a splash in Vietnam is "Play Together" – a multiplayer game developed by a Korean Game company – Haegin that has taken the Vietnamese gaming community by storm!
In this article, we tell the inspiring story of how "Play Together" succeeded during the pandemic in Vietnam, and how the game's unique features and community-building elements captured the hearts of Vietnamese gamers. We'll dive into the strategies that the game company used to penetrate the Vietnamese market and reveal how "perfect timing" and marketing played a crucial role in its success.
Overview
Game: Play Together 
Developer: Haegin – Korea
Platforms: iOS/Google Play
Genre: Social Simulation 
Released date: January 2021 
Current status: The game has been officially released by VNG in Vietnam since June 30, 2022
The game initially gained attention through player posts on the social networking site Facebook, which began in April 2021. However, it was in June to September of the same year when content creators on YouTube and TikTok began showcasing the game, leading to an explosion in popularity nationwide. By August 2021, Play Together had already reached 30 million downloads and 4 million daily players, making it one of the top downloads in the Vietnamese and Taiwanese markets on both Google Play and the App Store. A year after its launch, the game's total downloads had already surpassed 100 million, a testament to its enduring popularity.
Traction

| | | |
| --- | --- | --- |
| Version | Release date | Download |
| VN [Haegin]  | 01/2021 | 13.074.773 |
| VN [VNG] | 30/06/2022 | 6.536.409 |
The game currently has over 103 million players worldwide, with nearly 20% of them coming from the Vietnamese market. This demonstrates the game's strong influence and popularity in Vietnam, reaching its peak in terms of product success.
So, what are the reasons for its success?
Reason 1: Increased demand for gaming during pandemic
The first and most obvious reason for the success of Play Together is the increased demand for gaming . Social simulation games like Play Together are even more appreciated during the Covid pandemic for meeting the social communication needs that users are lacking – which we can consider to be "perfect timing" .
Reason 2: Create a realistic experience for players
Play Together's features and gamepley are modeled after daily human activities such as expressing feelings, chatting, partying, attending weddings, going to school, and more. This immersive experience hits the players' lack of social interaction during social distancing time, making them satisfied and engaged in the game.
Players are free to choose their gameplay and develop their own ways of playing, such as making TikTok videos, creating funny reels, building indoor minigames, hosting parties and others.
Reason 3: Media effect. 
Play Together was not immediately popular upon release, as evidenced by its launch in January 2021 but it wasn't until April 2021 that many people became aware of it.
It all started with the first players to experience the game. They shared their personal experiences on social media, attracting a lot of interest in the game.
Afterwards, content creators recognized its potential and joined in with diverse content topics and trends, causing the name 'Play Together' to quickly explode across online sharing platforms and create a buzz. The game became the most popular game during the period of June-September 2021.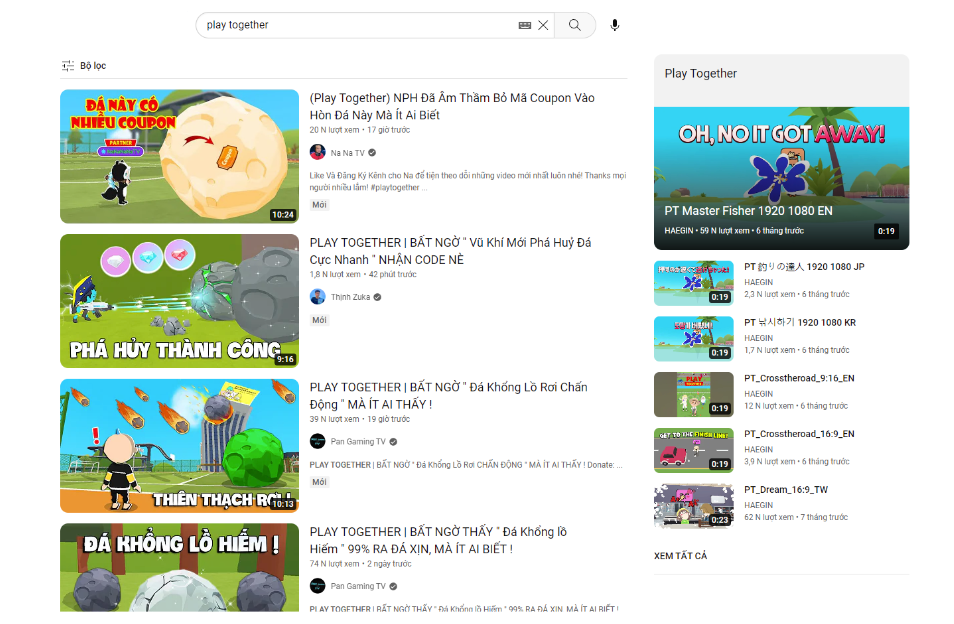 Takeaway
Timing is everything: 
Play Together success illustrates the importance of timing. While the game was not an instant success, it gained traction after the initial users shared their experiences on social media. Therefore, it's crucial to understand the market and release games at the right time to maximize their potential. 
Do detailed market research to capture trends so you don't miss the golden times
Focus on community building: 
The game's features and activities of Play Together are designed to encourage players to work together and build relationships within the game. Developers should prioritize community building in their games, as it can foster a sense of belonging and increase player engagement.
Leverage the power of social media: 
Collaborate with Content Creators: By collaborating with content creators, you can tap into their audience and reach new potential customers. Make sure to choose content creators whose audience aligns with your target audience and provide them with the resources they need to create compelling content.
Encourage User-Generated Content: Allows players to create their own content, such as TikTok-style videos, mini-games, gameplay videos or screenshots. This user-generated content not only adds to the game's appeal but also encourages players to share their experiences with others on social media that build a sense of community among players.
Engage with Your Followers: Social media is a two-way street, so make sure to engage with your followers regularly. Respond to comments and messages, ask for feedback, and show appreciation for their support.
Provide Value: Finally, make it a point to provide value to your followers. This can be in the form of tips and tricks, behind-the-scenes looks at your game development process, or exclusive content. 
The competition for games in the mobile segment gets tougher each year, both in terms of new user acquisition and retaining the existing ones. Such severe market conditions dictate the rules. Today, you have to develop not only a first-class product but also prepare its promotion strategy extremely carefully. To make sure your game stands out, you need to be creative and always look for new ways, techniques and out-of-the-box solutions.
In this case study, you will learn how to make intriguing content right to achieve good results and keep within the budget.
At Gamota, we're not just a game publisher, we're a community. 
With over 15 million players, we've spent the last 10 years building relationships with our community, creating unique experiences, and helping our partners succeed in Vietnam. We understand the Vietnamese market and have the expertise to unlock the full potential of Korean developers' games and connect with Vietnamese gamers in a meaningful way. 
Let us help you tap into the potential of Vietnam's gaming market and take your business to the next level !!!