The 2023 Lunar New Year is expected to witness insights that a change in habits and behavior of Vietnamese families in general and game players in particular. Similar to previous years, the peak of the game market during this period will coincide with the transition week between the old and the new year, which is an opportunity for developers and publishers to grow in terms of players and revenue.
During the Think with Google event – Winning Tet 2023, a representative from Google pointed out the main trends of this year's Tet, including:
The return of outdoor activities: After 2 years of being deeply affected by the COVID-19 pandemic, Tet 2023 will be an occasion when the celebration atmosphere at outdoor events, tourism and festivals stretches across the world. provinces.
The acceleration of digital entertainment activities: COVID-19 has promoted digital entertainment activities to be more diverse and frequent in people's lives. With the Tet season, many people will continue to choose activities such as watching online videos and playing games.
Innovation in shopping behavior: besides products appearing every Tet such as FMCG and gifts, consumers are also interested in streamlined products, focusing on personal and health care. 
For the game industry alone, the peak in downloads will be in the week of Tet, when entertainment demand is the highest (compared to shopping activities that usually generate demand about 1 month before Tet).. Developers , studios and publishers generally consider this to be the best time to increase ad spend and attract new players.
Source: Appsflyer – Mobile Insights for Tet 2023
During this time, while advertisers had to compete for players, the results were well worth it as player spending on games also skyrocketed. Games with the main income from IAP often have many exciting activities and events with incentives to attract players, leading to strong growth in revenue.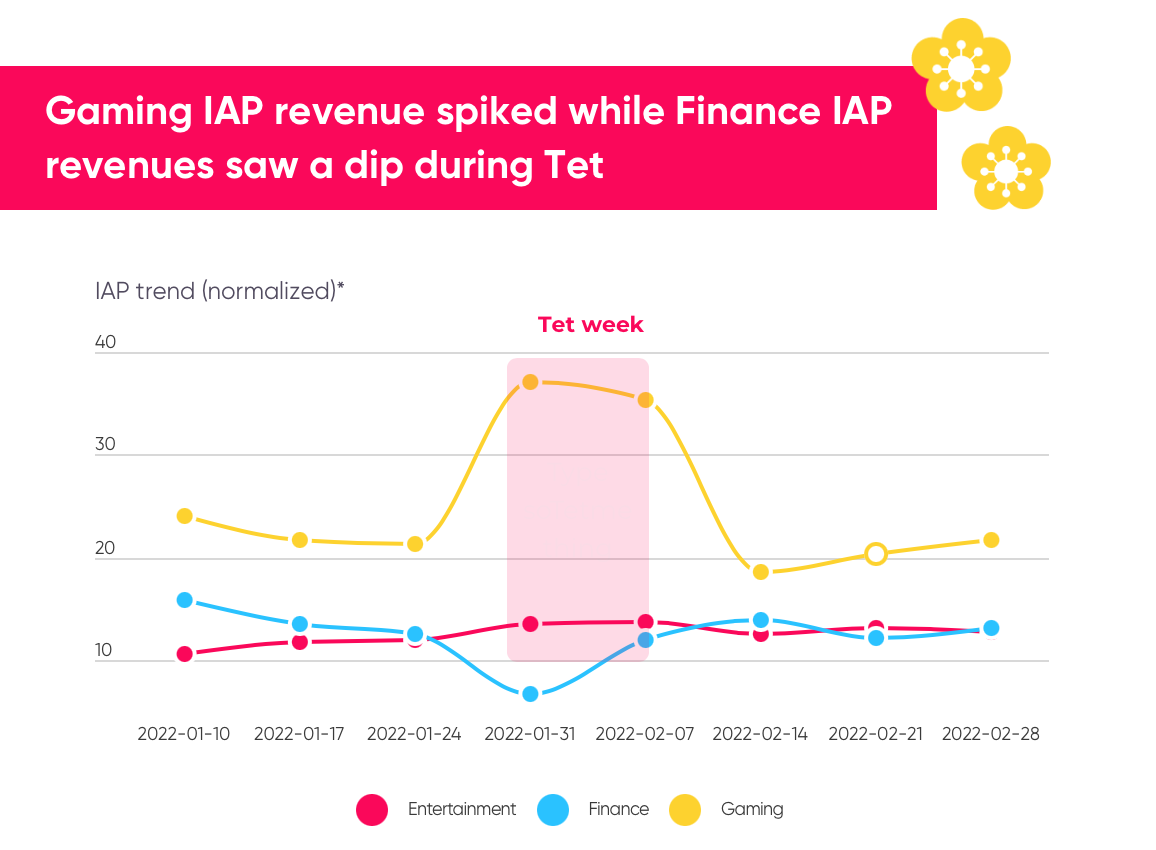 Source: Appsflyer – Mobile Insights for Tet 2023
To succeed in advertising campaigns to attract users, TikTok has suggested several ways to create attractive promotional publications on this platform including:
Video: Use in-game images to create engaging video clips, including new storylines, realistic images or virtual reality to get closer to the user.
Emotional factors: For gamers, challenging elements often bring many interesting emotions such as excitement or competition. Capturing this insight, advertisers can create competitive content such as beating the competition, getting high scores and creating a sense of satisfaction when winning in their advertising publications.
Audio: With TikTok, users are attracted to new music. Adding these elements will help the publications go deep into the user's mind and increase interactivity.
Diverse perspectives and visual elements: This solution includes the use of role-playing elements, introducing products from the perspective of different characters to create intimacy. In addition, ASMR is also a trend to increase positive emotions in users.
To sum up, Tet 2023 will see the return of consumption and entertainment habits compared to 2021 and 2022. Online entertainment activities will be more present in families, and the gaming industry will continue to reached the peak of competition in the week of Tet.
Marketing your Game most effectively with GAMOTA 
Marketing is one of the key factors for the success of mobile games, reaching more potential users and promoting the brand.
As a publisher with more than 10 years of experience, Gamota provides the most optimal game publishing solutions, which include Comprehensive Marketing by Ad Campaigns, ASO, Social Media Marketing, etc. on multiple platforms such as Facebook, Tiktok, Live….